Prizes:
1st – One mixed case – 3 bottles of each whisky (Equivalent retail value approx. £420)
2nd – 2 bottles of each whisky  (Equivalent retail value approx. £280)
3rd – One bottle of each whisky (Equivalent retail value approx. £140)
Tickets are £2 each – £10 for 5 entries.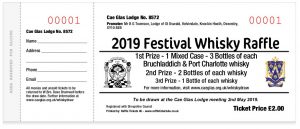 To purchase tickets:
Those wishing to purchase tickets should email W.Bro David at [email protected] stating their name, phone number, email address, Lodge name and number (if any), postal address if tickets are to be posted and the number of tickets required.
W.Bro David will then reply with the details of the account into which payment should be made, following receipt of which, tickets will be allocated and recorded or posted as appropriate.

---
About the whisky…
Many Masons in the Province will know that W. Bro. David Bramwell, of Cae Glas Lodge No. 8572 in Oswestry, invested in two casks of Islay malt whisky and some of the whisky has since been named Cae Clas Bruichladdich, distilled in November 2003, and Cae Glas Port Charlotte, distilled in July 2004. Both were bottled in October 2014.
W.Bro. Keith Arscott and W. Bro. David visited them religiously travelling to Islay from Oswestry every year by motorbike, and in 2010 David, and Bro. John Clarke of Salopian Lodge No. 117, both having private pilot's licences, flew up to visit the whisky. Their adventure was recorded in a five-page spread in 'Pilot' magazine in August 2010.
The whisky is very highly regarded by those on the Province of Shropshire who have already tried it (including our past Provincial Grand Master, who is very keen on it!). Cae Glas Bruichladdich is unpeated and floral, while the Cae Glas Port Charlotte is a typically heavily peated Islay malt.
W.Bro. David has donated a case of six bottles of each whisky to raise money for Province of Shropshire 2019 Festival in aid of The Grand Charity. A special commemorative label has been designed by W.Bro. Neil Bevan, detailing the cask number and the Cae Glas Lodge crest, and will only be used on the 12 bottles as prizes in a draw.
The draw is open to all freemasons – and their families and friends.
Winners will be drawn at the Cae Glas Lodge meeting meeting on Thursday 2nd May 2019 (Hopefully by the Provincial Grand Master!).
Name and email address or postal address will be recorded against a unique number on a spreadsheet.
Printed draw tickets will also be available on request with the option for them to be posted if a minimum of 5 tickets are purchased. Where fewer than 5 tickets are purchased they will be available for collection at a Cae Glas Lodge meeting, or will be held on your behalf by the Treasurer of Cae Glas Lodge.
Personal data will be used solely for the purposes of the draw and afterwards deleted.
Tickets may only be purchased by persons aged 18 or over.