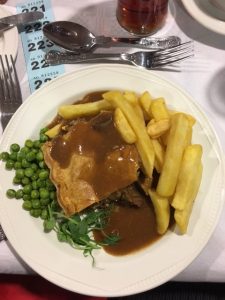 An intrepid band of no less than eight members of Cae Glas Lodge, including the WM, IPM, Charity Steward, DC and Secretary headed up to Chester on the evening of 18th April to visit Westminster Lodge No 7532 at the impressive Masonic Centre in Christleton.
At the instigation of our IPM, we are establishing an annual reciprocal visit between the two lodges, which are of similar size and outlook, having already enjoyed informal visits between us for some time.
The brethren were treated to an informative lecture by W.Bro. Peter Booth, PPrSGW, entitled 'Getting to Know your Lodge Room', followed by a very enjoyable Festive Board – where the WM of Cae Glas was asked to respond on behalf of the visitors – seconds before we dined… Luckily, he had been tipped off that he might be asked, due to the strength of our visiting numbers, and, as a good Scout was prepared for the task (the first time he had been called upon to give the response)!
A special thanks must be added for the wine placed on the Cae Glas table from three Westminster brethren 🙂
Cae Glas also left with two raffle prizes – a bottle of whisky and an Easter egg!
We are looking forward to welcoming a good number of brethren from Westminster Lodge to our 300th meeting in May, and to continuing to forge friendships and a more formalised 'twinning' with the lodge, which is obviously in very good heart!
Unfortunately, we didn't take any photographs, apart from the WM's dinner – hence the photo of a very enjoyable steak and mushroom pie and chips…